Growth of Ekjaa
January-2014 to September-2014
Rushvi Jain:
We began teaching in the month of January every Sundays with one Ekjaaite initially. The first place we decided to target were the slums of Jamrushi Nagar,Pathanwadi located in Malad(East), Mumbai. The children in that area go to municipality schools and hence their knowledge for English/Spoken English is very poor. Basics of English were taught and then slowly week after week the level was increased. By the end of January two more Ekjaaites Pratik Bardia and Anshul Pacheriwala joined in. There were total three now, so teaching was even more fun. The Ekjaaites taught the mad way, it was teaching with tang of fun activities. After a few months, we came up with a new place in Goregaon(East) again where the kids went through the same problem. Soon work began there and Sakshi Jain also joined as Ekjaaite, with the increase in the number of Ekjaaites there has been additional 2 places where we expanded. All the children in the adjoining vicinity area have also joined English classes. We make it a point that along with English we inculcate general knowledge, math, science and social manners in the children that will help them develop with time. In both the locations, Ekjaa Foundation took care that all the kids receive basic stationery required for learning. There are plans to start Digital Literacy i.e. basic computer education for the same kids in near future.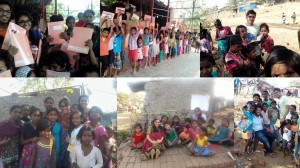 January 2014 – Eye Check up Camp
Ekjaa Foundation conducted Eye checkup camp in association with NGF Global. The camp distributed 750 free specs to the underprivileged people of Jamrushi Nagar, Goregaon – Mumbai. The camp was conducted by Dr. N Chajjad and 2 supporting staff at the project site. The patients who suffered with cataract were offered free treatment at Santacruz Pvt Hospital under Dr. Chajjad's guidance.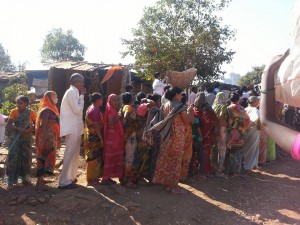 January 2013 to December 2013
Digital Literacy:
Ekjaa Foundation successfully conducted and completed Digital Literacy program in association with NGF Global and CSI – Mumbai chapter. The program was conducted in Government it is in Vile Parle, Santacruz, Mulund, Panvel in Mumbai. The Ekjaaites were college students from SNDT, Vidya Vardhni and others.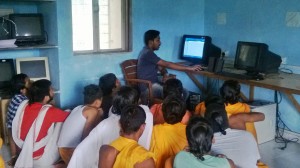 January – December 2012
Ekjaa Foundation rolled out Books, Toys and clothes collection campaign in Mumbai and Delhi in 2012 along with teaching in the slums of Mulund. We also represented in IIM – Ahmedabad to recruit talent to work on our project. In Mumbai, we were supported by the students of IIT-Mumbai and the drive was held in Hiranandani Powai. In Delhi, Ekjaaites from Jaypee Institute of Management Ekjaaiteed. The drive was held in Delhi Haat with the support of CSR activities of Ficus Advisory Pvt Ltd.